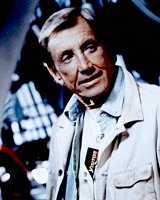 Nathan Hale Bridger
Rank: Captain
Assignment: Commander of the seaQuest

DOB: 10 Nov 1963
Married Carol Benning. Son Robert Bridger killed in action during North Atlantic War. Resigned from active duty. Wife contracted pneumonia and died.
As the creater and chief designer of the seaQuest, which began construction in 2009, Captain Nathan Bridger was a model officer of the U.S. Navy. However, after the death of his son, Robert, who was killed in action somewhere in the North Atlantic, he left the military, promising his wife he would never go back. After his wife died, he disappeared to a secluded island in the Caribbean, where he spent his days in retirement working on communication skills with his pet dolphin, Darwin.
But the lure of the seaQuest, his biggest accomplishment ever, was just too great. Being lured back into the Navy by Admiral Noyce, a friend of his for over 35 years, Bridger accepted the position of captain aboard the fully-functional seaQuest DSV 4600 in 2018. As Captain, he worked to bring his dream of combining science, research, and exploration with military peacekeeping interests. He became a stand-in father figure for Lucas, and after coming to terms with his wifeís death, aquired some romantic interests in, first, Dr. Kristin Westphalen and, later, Dr. Wendy Smith. He is said to have some physic ability, although refuses to investigate his abilities further.(Played by: Roy Scheider)
Back to list
***************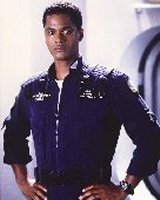 Jonathan Devon Ford
Rank: Commander
Assignment: 1st Officer

DOB: 4 Mar 1990
Top of his academy class. Distingushed and fast-paced career. Relieved Captain Stark of command of the seaQuest.
Jonathan Ford entered the US Naval Academy in 2007. The top of his class, he led a fast-paced career. Ford was offered the commanderís position aboard the seaQuest, a top-notch position for a top-notch officer. Part of the first tour of the seaQuest under Captain Marilyn Stark, Ford was forced to relieve her of command, and she was later discharged from Norpac Command. Admiral Noyce ordered him to act arrogant and unfit for command in the effort to get Bridger to stay on board. When Bridger accepted, he made certain the Navyís military interests are upheld with Bridgerís sometimes too science-oriented mentality.
Having a very serious nature (which results in a dry sense of humor), Ford is able to handle high-risk situations confidently. He and Lonnie Henderson develop a mutual attraction for each other, leading to a ship-board romance. He spends most of his time working on the bridge, and enjoys theater, music, and courses which have little or no relevance to society, such as the Fractal Theories of Cold Fusion. He also plays the piano.(Played by: Don Franklin)
Back to list
***************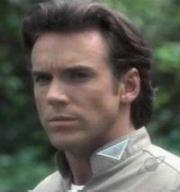 James Brody

Rank: Lieutenant
Assignment: Weapons and Tactics Officer
DOB: 14 Oct 1993
Has a pool table in his quarters. Led a commando team to resolve the North Korean Crisis.
When Brody was 6 years old, his mother, Alison Brody, contracted the P-Core A virus. The virus was fatal, and had no known cure. She was put into cryogenic suspension, freezing her body until a cure could be found. Brody was taken in by his grandparents and raised, becoming one of the prize officers of the UEO. A quick thinker, he was in charge of many ground troops, leading a stealth invasion in the North Korean Crisis and an under-water demo team skirmish in Tonkin.
He was assigned to the GELF colony, and was the officer in charge when they revolted. Rescued by the seaQuest DSV 4600 II on her maiden voyage, he stayed aboard and took over the duties of security and tactical, including weapons speicalist. He has a strong millitary desire, much like Commander Ford's, and was willing to be involved in all assingments. Quite the ladies man, Brody was frequently the only one to find a date on shoreleave.
His happy-go-lucky, slightly laid-back, demenour sometimes fools people into underestimating his abilities and how important his job is to him. His slightly I'm-good-and-I-know-it attitude and always ready quips got him started off on the wrong foot with Ford, but as a testament to how similar their values in life are, the 2 most senior officers, after the captain of course, on SeaQuest soon became fast friends.
During his tour with seaQuest, his mother was awakened out of cryogenic suspension. Her ensuing nightmares of the past lead Brody to uncover the man responsible for her virus, General Frank Thomas. She was put back into cyrogenic suspension because a cure had still not been found.(Played by: Edward Kerr)
Back to list
***************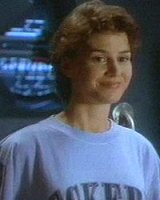 Lenore Ellen Henderson

Rank: Ensign
Assignment: Helmsman and Chief Engineer
DOB: 21 Jun 2000
Father ran a solar power station. First generation navy.
Being new to the Navy, Lonnie Henderson was very inexperienced when first touring with the seaQuest. The first of her family to be in the Navy, she knew a lot about mechanics from working with her father on the solar power station that he ran, giving her the engineering skills necessary to be the helmsman and chief engineer of the seaQuest.
Her good luch charm is a stuffed animal named Addison. Commander Ford threw the animal away when she arrived on seaQuest, but she managed to get it back, and it sat at her station terminal.
Although being one of the lowest ranks on the ship, she is often called to be a part of the away teams because of her knowledge. She is very committed, and learned to cope with her fears in battle situations.(Played by: Kathy Evison)
Back to list
***************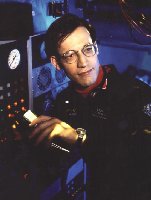 Timothy O'Neill
Rank: Lieutenant JG
Assignment: Communications Officer
DOB: 25 May 1992
Fluent in six languages. Claustrophobic.
Tim O'Neill had to overcome his problem with claustrophobia to serve aboard submarines. An original member of the seaQuest crew under Captain Stark, he had a special talent in languistics. Being fluent in six languages and knowing of a dozen more, he was a very valuable member of the crew.
Tim was a friendly, but shy man, with an inquisitive nature. A quick problem solver, he would tend to get very nervous, and sometimes felt that he got pushed around and not appreciated. He showed signs of being slightly tele-empathic when only he and Bridger heard Dariwn's cries for help when Dariwn became sick.
One of O'Neill's quirky peculiarities was organizing his underwear by the day. He, along with a lot of other males, was strongly attracted to Ensign Lonnie Henderson when she first came on board. He dated her, but decided he did not want a ship-board romance.(Played by: Ted Raimi)
Back to list
***************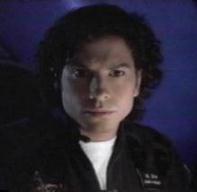 Miguel Ortiz
Rank: Senior Chief Petty Officer
Assignment: Sensory Officer

DOB: 3 Mar 1992
Cuban born. Chose sensory operations as his specialty.
Miguel is a curious person by nature. He specializes in sensors, and operates the WSKRs (Wireless Sensor Probes) aboard seaQuest. His position on board is one of the most demanding as it requires analyzing the vast amounts of information that the three WSKRS (Mother, Junior and Loner) send in. He is good at mathematics, and is a quick problem solver.
Although he was shy when he first came aboard, he quickly became more confident and made many friends. He is fluent in Portuguese, is a huge Abbott and Costello fan, and has a way with women. Miguel considers himself to be a "banger" and that if your ears aren't bleeding, it isn't music.(Played by: Marco Sanchez)
Back to list
***************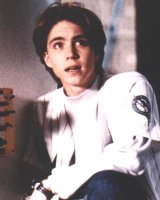 Lucas Wolenczak
Rank: Civilian
Assignment: Computer Systems Analyst
DOB: 28 Feb 2002
Parents are divorced. Graduated magna-cum-laude with a degree in Applied Principles of Artificial Intelligence from Stanford University. No one has broken his GPA record.
Dumped on the seaQuest by his famous father, Lucas Wolenczak was the only teenager the sub. His father, with the help of Admiral Noyce, created an assignment for Lucas because he was too busy with his own work to watch him. Considered a genius, he graduated from Stanford University at the age of 16.
Although his IQ was extremely high, Lucas was still a teenager, and ran into many teenager-related problems. Most prevelant of of which were girls. He fell in love many times. Captain Bridger became a stand-in father figure for him and gave him advice on many occasions.
Lucas was a very valuable memeber of the seaQuest, though at first, his cockiness made others dislike him. He soon lost his cocky edge (although it never completely went away) and made many friends, the best of which was Darwin, the dolphin. During his first tour, Lucas finished development of and installed a dolphin-English translating program, allowing Darwin to speak. He also installed a holo-program in the captain's quarters for Bridger to use, found a virus buried in the seaQuest's mainframe, prevented the takeover of World Bank data network, and performed many other service in computer repair and technology.
Because of the sacrifices he made and excellent actions on the original seaQuest, he was promoted to Chief Computer Analyst, making him a full scientific personnel. This promotion allowed him access and a station on the bridge.(Played by: Jonathan Brandis)
Back to list
***************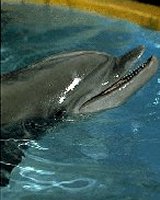 Darwin
Rank: Ensign
Assignment: Special reconnaissance, deep-sea tracking, and data retrieval
Race: Dolphin
DOB: c. 2007
Rescued by Bridger, who found floating in a lagoon, cut up by fishing nets. Able to communicate well with humans.
As a young dolphin, Darwin was rescued from a tangled fishing net by a retired Nathan Bridger. While nursing the dolphin back to health, Bridger formed a bond with him and began developing a means of communication. Bridger had worked on a more sophisticated computer-translating program for dolphins, but scrapped the idea in favor of using hand signals.
Part of the bait to ger Bridger to command the seaQuest, Darwin was transported to the boat when Bridger went onboard for a tour, and became quite happy with his new environment. He could enter or leave the craft at will, and, once inside, he could roam anywhere in the ship through a water-filled tube system. An advanced computer program allowed direct communication, translating a shared vocabulary of approximately 125 words of English with dolphin klicks and squeaks. The program, which was similar to the one Bridger had had in mind, was developed by Lucas Walenczak. Lucas became Darwin's best friend on the seaQuest.
Considered to be the military's ultimate marine envoy, Darwin was trained for special reconnaissance, deep-sea tracking, and data retrieval. He helped the crew out on a great number of missions, being able to easily traverse the underwater world. A specially devised breathing suit aided Darwin in his missions, providing the dolphin with oxygen so that he would not need to go to the surface for air. Darwin also served as a translator for the alien race first encountered by seaQuest.(Played by: Darwin)
Back to list
***************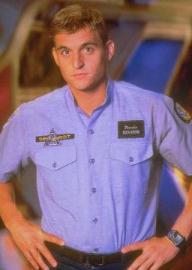 Anthony Piccolo
Rank: Seaman
Assignment: Crewman, engineering

DOB: 28 October 1998
Jailed for striking down a superior officer. Received early release from UEO prison by volunteering as an experimental subject. One of the first lung/gill hybrid humans. Suffers from dyslexia.
At first hot-headed and obnoxious, Piccolo was a misfit of society. He was brought onboard seaQuest through an inmate release program after volunteering to have working gills surgically attached to him. Because of this, he can breathe underwater without an oxygen tank, just like a fish.
Not one who deals well with authority, he turned his life around and became a member of the seaQuest team, though still retaining a lot of his attitude. Working down at engineering, he kept most of the electrical systems working. He liked to show off at card dealing, and could play the piano.(Played by: Michael DeLuise)
Back to list
***************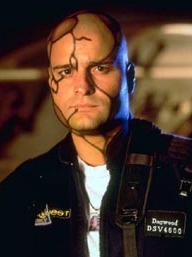 Dagwood
Rank: Civilian
Assignment: Sanitation Engineer

DOB: c. 2001
A GELF (Genetically Enhanced Life Form ). Prototype genetically engineered soldier, Alpha Model K. Birthplace: Classified.
Dagwood is a Genetically Engineered Life Form, also known as a Dagger. Being the prototype, he did not turn out exactly like his creators had planned. He has enourmous strength, but a soft heart, and was not overly quick with his intelligence. Thus, he was not a suitable warrior.
Not considered a threat to anyone, he was assigned to the seaQuest as a janitor. On his first day, he saved Tim OíNeill's life when he lifted a heavy object that had fallen on O'Neill and would have crushed him. He later became friends with every member of the crew and was very valuable, especially for his strength, and ability to see things in their simplest form.
Dagwood had lived an extremely protected life, and had trouble understanding the outside world, though he slowly improved as he spent more time with people.(Played by: Peter DeLuise)
Back to list
***************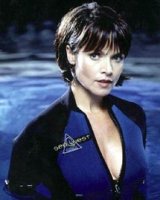 Wendy Smith
Rank: Civilian
Assignment: Senior Physician
DOB: 23 Sept 1982
High PSI factor , including telepathy and telekinesis. Majored in Bio-physics. Earned an MD.
Although a medical doctor and researcher, Wendy's passion lied in parapsychology. Both her mother and grandmother were in the navy, though not in the same field. Having a high PSI factor, she could read thoughts and "bend spoons."
She often used her talent to the crew's advantage, though sometimes wished she did not have it. She could read thoughts that she'd rather not hear, crowds wore her out, and she didn't like the walls that people could put up.
One person who could put up walls was Captain Bridger, who also had a PSI factor. Wendy developed an attraction to Bridger, and her feelings for him made her think about transferring off of the seaQuest, though she did decide to stay.
She acted quickly and responsively to any situation which arose, but was not one who was likely to take control. She also had an aversion to wearing uniforms.(Played by: Rosalind Allen)
Back to list
***************

Marilyn Stark- was one of Bridger's students, and the former captain of seaQuest while under NORPAC jurisdiction. After Livingston Trench, she was relieved of command, but left a virus implanted in seaQuest's computer core.

While Bridger was touring seaQuest, Stark attacked Gedric Power Station, drawing the seaQuest into an ambush. Unable to fire torpedoes, or defend herself, Bridger brought the ship into a crash dive, managing to evade destruction by the revenge-blinded Stark. In the end, Stark's Delta 4 was brought down with help from Darwin, and Stark vanished off the stricken sub without a trace.(Played by: Shelley Hack)

Back to list

***************

Mariah- One of the Daggers that led the revolt at the GELF Prison Colony. She was captured, but escaped prison again with the help of the "Marauder". She kidnapped Tim O'Neill and used his knowledge to attack the seaQuest. She failed, but was let go in exchange for the return of O'Neill.(Played by: Sam Jenkins)

Back to list
---
---
---

This page has been visited
times.

---